MATT BELLAMY - IS THERE SEXIER MAN ALIVE?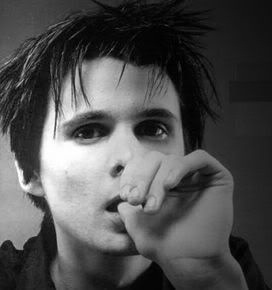 One of the best gig moments of MY LIFE just happened tonight. I was standing front row at the Muse concert. Matt stepped down from the stage and was a meter away from me. He knelt down in front of me and played the intro gituar solo of 'Plug in baby', which is one of my favourite gituar riffs of all time. He was biting his lip as he played it intensly. He looked into the crowd with a growling rock face. His blue eyes were very clear to me. He was wearing skinny white jeans and a white t-shirt. He was pretty much posed like this in front of me: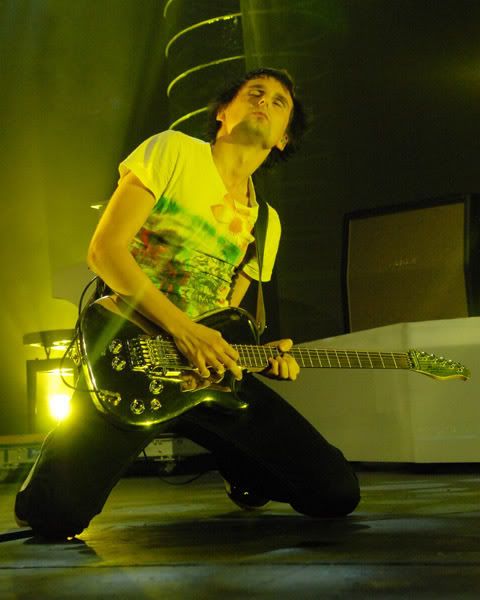 I loved it when Matt played on the piano and had the gituar slung around his body. I wish he could come play piano at my house. What an insanely talented musician.
I was never a major Muse fan until I blown away by their sunset performance at the Big Day Out on Sunday. There was a magical atmosphere in the audience. The crowd was singing along, but not in an annoying way, and dancing, but not roughly. People were really into it and excited. I think the vibes from the people around me is what infected me even more with the Muse bug. Muse played with such intensity, and I was drawn into Matt's voice. He closed his eyes and tilted his head as he sung in falsetto. He reminded me of Jeff Buckley.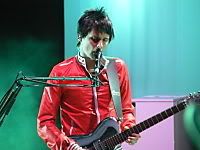 Matt Bellamy and Muse shit all over Thom York and Radiohead. Muse are supposedly influenced by Radiohead and are often compared to them. But Thom York is an arrogant prick and Radiohead don't come close to producing the dramatic sound of Muse. I think they are quite different and shouldn't be compared anyway.
Muse continues to create an exciting variation on prog rock. Their past three albums sound completely different to another. I think 'Origin of Symmetry' is their most accessible, 'Absolution' is their heaviest, and 'Black Holes and Revelations' ventures into new territory with a more pop/funk sound. Electric beats in track 1, 'Take a Bow'. A bit of salsa on track 10, 'City of Delusion'; a bit of surf gituar Tarantino soundtrack-esque sound on track 11, 'Hoodoo'. Matt's vocals on 'Supermassive Black Hole' are rather...disco?