I was in the picturesque beach town of
Lorne
in the past two days for a work conference. We drove through the Great Ocean Road to get to Lorne. Why is the Great Ocean Road a tourist attraction? I don't see the appeal in a long and windy road.
Lorne was not your ordinary bogan country town. The people looked clean cut and the shopping street was modern and tidy. I enjoyed walking up the steep, tree lined streets and tried to figure out the type of people who lived in the homes we passed by. The architecture varied in style from impressively futuristic to typical wooden beach home, and from family holiday home to axe murder shack. We walked through the beach several times and resolved to return to Lorne for a proper holiday.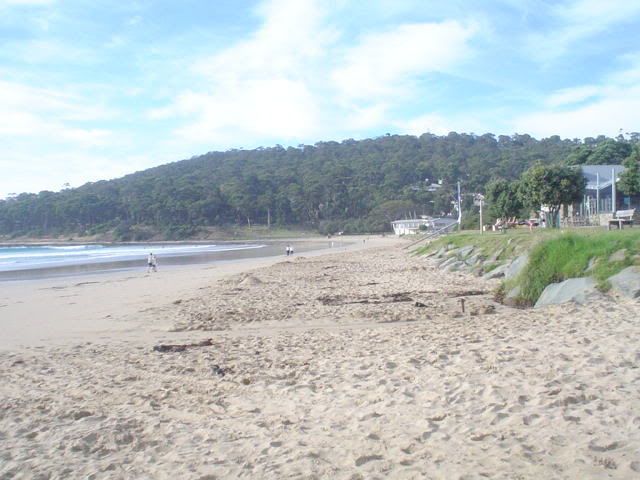 However by sunset, I began to freak out about how eerily quiet and dark it was. We were sitting in the garden of the resort, facing the beach and trees. I felt I was sure a ghoul or rapist/murderer was going to come out from behind the trees to scare me. I had to stop looking into the pitch black space. I fell incredibily homesick for my house, my bed, my bathroom, and the city lights. I was craving the sound of car horns and drunks arguing on the street. I love hearing people having lively conversations as they walk by my house after a big night out. I feel safer walking around the city at 2am in the morning than I do in the country and suburbs at 9pm. I get incredibily creeped out in the country and suburbs at night. My imagination always runs on overdrive.
I am lying on my own bed writing this and I have never felt more comfortable in my life. I love Melbourne. I love Brunswick. I love my bed!