Sitting at a bar or restaurant along the Bund is a pastime of rich locals and expatriates. All the bars are pretentious and expensive, except for one that I read about in the local bar guide – the Captain bar. The Captain bar is above the Captain Backpackers hostel. The bar is dark, relaxed and cosy. The balcony of the bar is modelled as a ship deck. Sit here to enjoy the view of Pudong and watch advertising projected onto buildings and on billboard sized TV screens floating across the river on boats. The Captain Bar is probably one of the cheapest bars along the Bund, but the prices are the same or even slightly higher than any bar on Brunswick Street. This is the view that can be seen from the Captain Bar:
Cheaper drinks can be found in other areas of town. Trent told me of a bad nightclub called Windows, where we could find really cheap drinks, sleazy twenty year old American frat boys and slutty local girls.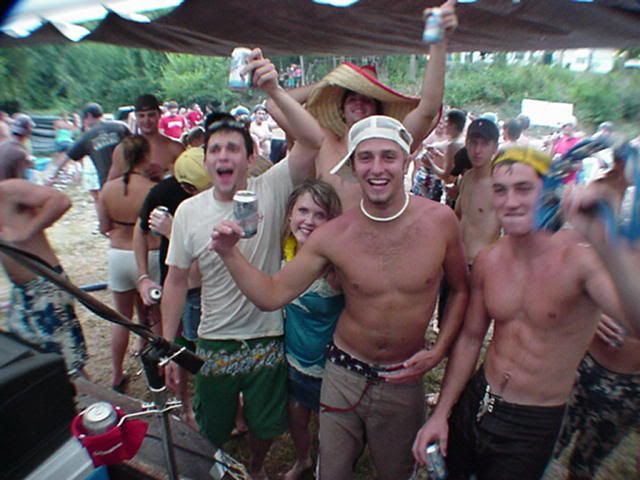 I was curious to find out how bad it was, so we headed to Windows. It was full of trendy young locals and a few expatriates looking for a local girl with a white fetish. Yes, the drinks were cheap, but it was one of the worst nightclubs I've been to. Ok, so urban (i.e. hip-hop and R & B) nightclubs are not my scene at all, so if you enjoy being slutty and trendy while grinding to "The Best of Hip-Hop: 1990-2006", Windows is probably for you. Hip hop, R & B and hard electronica are the most popular music genres amongst Gen X and Y in Asia. The nightclubs in KL played the exact same set list as Windows, and Trent said they played the same set in Tokyo too. The set always features "Hip Hop Hooray" by Naughty by Nature, Destiny's Child, "Birthday" by 50 ("fidy") Cent and "Gold Digger by Kanye West. I have a few theories as to why urban music is the most popular amongst Asians. Firstly, they aren't exposed to a wide range of genres. The local radio and MTV play Chinese music or top 40 from the U.S. which comprises mostly of urban music. Secondly, Asian Americans and Asian Australians relate to the African Americans in being a marginalized society. Thirdly, mainstream urban music is all about the bling and logos. Watch the videos, listen to the label name dropping in the lyrics. Asians are extremely materialistic. They can relate to or aspire to be like the polished upper-class urban artists more than dishevelled white rockers. The young Chinese don't want to look grungy, otherwise they'll be perceived as poor.