I was most looking forward to eating steamed dumplings. The Shanghai Dumpling House restaurant in Melbourne gave me the impression that Shanghai was renowned for dumplings. The dumplings, otherwise known as
xiao long bao
, were nice but no better than the dumplings I've eaten in Melbourne. I became sick of eating dumplings after two consecutive days of eating them. Although the food was cheap (I bought a bowl of homemade soup noodles for $0.50), it was mostly too salty, oily or sweet.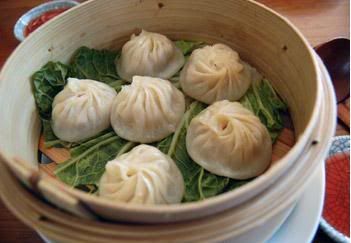 Shanghai does not have as much street food variety as Malaysia. The most common finds were chicken wings and Muslim Chinese lamb kebabs. Steamed bun stalls were quite uncommon unfortunately. I found a few spring onion pancake stalls. They crack an egg on the pancake and smother it with chilli. Fried buns were everywhere too. Imagine what would happen if you deep friend something that wasn't meant to be deep fried - that's how I felt about the deep fried buns. It was a thick dough with a hard, not crispy base. I wasn't used to eating food of this texture.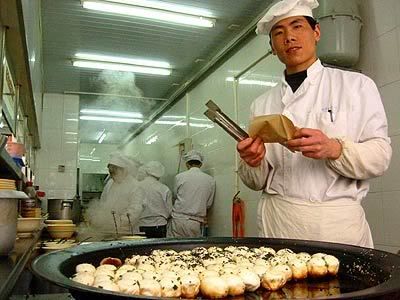 I observed that not many Shanghainese ate rice to accompany the salty stir fries. I did not understand how they could do without rice to balance out the saltiness of the dishes. All servings were massive and a lot of food would often go to waste.
There were many bakeries that sold buns and pastries that made me worry about developing diabetes. I took advantage of the cheap bananas by eating one a day. The tastiest meal I ate was at a Chinese restaurant named Yin. I was apprehensive about going to this restaurant because it was located in a hotel, which meant the food would be less authentic. I liked the place the moment I stepped into it. It was furnished in rich, dark wood and jazz was playing in the background. It had a Manhattan basement jazz bar from the 1920s feel. The menu claimed that they did not use MSG in their cooking and they did not use as much oil and salt as other local restaurants. This suited me, as it was difficult to find a healthy meal in Shanghai. My Chinese friend said that the food at Yin, even though nice, was catered to foreign tastes. And here I was thinking that my taste palette was Asian so I was an authority to tell people where to eat in Melbourne's Chinatown. Yin had a few of these mahjong lamps, which I loved: