During the first four nights I stayed at the 5 star
JC Mandarin
on the posh Nanjing Rd West. It was nice but not the best 5 star hotel I've stayed in. The lobby had a beautiful building high Chinese mural that bordered the elevator entrance. Housekeeping was very quick to respond to calls. They did not vacuum the carpet or mop the bathroom floor with each daily housekeeping duty, and they did not replace our used towels with new ones. The shower over the bath was low pressure and there was a weird shower mat that left a black stain on the bath. It was the first hotel I've stayed in that used shower mats. I thought it was odd and unhygienic. The sink took quite awhile to drain and the air conditioning was not working well. The hotel breakfast was decent but not great. The Bircher muesli, fresh fruit, pastries and bread was good. However, the American breakfast was greasy and bland. I'd give the JC Mandarin 4 stars rather than 5.
I then stayed at the "4 star" Dong Hu Hotel in the French Concession. I was supposed to stay for two nights but only tolerated one. Despite the clean sheets and bathroom, the mahogany carpet was dirty and air conditioning noisy. The lobby had a weird smell. I don't normally trust hotels with an unpleasant lobby smell. The staff's English was not up to par, but they were still courteous and helpful. I'd give this give this hotel 2.5 stars out of 5.
Finally I checked into the beautiful heritage listed
Art Deco
Jin Jiang Hotel
. It was 1000 yen cheaper than the other 5 star hotels, so I checked the room before reserving a place to make sure it was ok. The room was gorgeous and very, very clean. I immediately booked it. I became intrigued with the hotel after having dinner at the Yin restaurant there the night before. I'm obsessed with Art Deco. All the staff I dealt with, even the bellboy, spoke very good English and they were all very courteous. I returned to my room in the evening to find a "Goodnight" card on my pillow with next day's weather forecast. My bathroom had a separate bath and shower. The Jin Jiang is definitely worth 5 stars.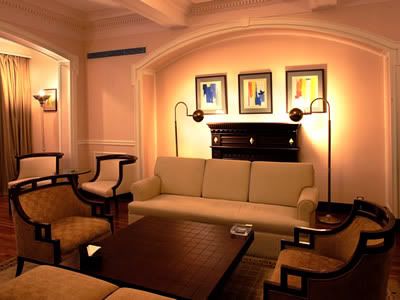 I've come to the conclusion that I have a 5 star hotel habit. The first time I switched to a 5 star hotel was when I was 10. I hated the red and white tiled motel that my parents chose on our holiday on the Gold Coast. It looked like something out of the set of Problem Child 2. I insisted that I could not stay there even for one night (the toilet seat was red!), so we checked into a 5 star hotel instead. I was happy. Since then, I've done this on nearly ever holiday I've been on. Sure, I will book a 3 or 4 star hotel first to save money. But they always look cleaner on the internet than in person. I really don't care about the amenities. I can do without a pool, gym and business centre. I just want to stay in a comfortable room that is spotlessly clean. People with OCD can't go backpacking. Maybe I should start a backpackers hostel chain for people with OCD.